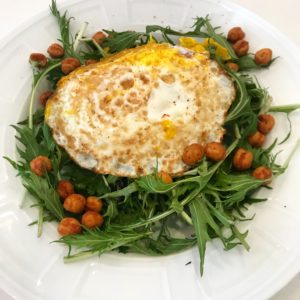 We are excited to be featuring Biena Chickpeas this month – from Cinnamon Crunch to Rockin' Ranch, the possibilities are endless! Not only do they pack in flavor, but at 5 grams of protein and up to 24% of your daily recommended fiber per serving, these roasted chickpeas are a healthful addition to any meal or snack. Check out some of our favorite LMN recipes featuring Biena:
Pumpkin Parfait (serves 1):
Ingredients:
1/2 cup Coconut Yogurt
2 Tbsp. organic pumpkin purée
Cinnamon to taste
Drizzle maple syrup
1-2 Tbsp. Biena Cinnamon Crunch Chickpeas
1-2 Tbsp. Biena Honey Roasted Chickpeas
Directions:
In a small mason jar or cup, add yogurt, then top with pumpkin purée, maple syrup, and Biena chickpeas. Enjoy for breakfast or as dessert!
Roasted Cauliflower with Parmesan and Sea Salt Crumb (serves 4):
Ingredients:
1 head of cauliflower
2 tsp. olive oil
salt and pepper to taste
2-3 Tbsp. grated parmesan cheese
1/4 cup Biena Sea Salt Chickpeas
Directions:
Preheat oven to 425˚F.
Cut cauliflower into florets, and place on a lined baking sheet. Toss in olive oil, and season with salt and pepper.
Put cauliflower in oven and roasted for 20-25 minutes.
While cauliflower is roasting, smash sea salt chickpeas until a crumb-like texture as formed.
When the cauliflower has 5 minutes left in the oven, top with parmesan cheese and Biena crumb. Roast for 5 more minutes or until cheese has just melted.
Serve as a side dish or enjoy as a snack!
Simple Greens and Fried Egg with Chickpea Croutons (serves 1):
Ingredients:
1-2 cup arugula or greens of choice
1 organic egg
2 tsp. olive oil, divided
lemon wedge
Salt and pepper to taste
3 Tbsp. Biena Habanero Chickpeas
Optional: additional non-starchy veggies
Directions:
Add greens to a large bowl.
Heat a non-stick pan on medium heat. Add 1 tsp. olive oil to coat pan, then crack the egg and allow to fry (either over easy or sunny side up).
While egg is frying, toss greens in 1 tsp. olive oil, juice from lemon wedge, salt, and pepper.
Remove egg from heat when done, and add to top of the salad.
Top salad with Biena Habanero Chickpeas (or other savory Biena varieties) in place of croutons, and any other veggies. Enjoy!
Air-Fried Chicken Tenders with Honey Mustard Dipping Sauce (serves 2-3):
Ingredients:
6 chicken tenders, 1.5 oz. each
2 eggs
1/4 cup Biena Barbecue Chickpeas
2 Tbsp. shredded parmesan cheese
Salt and Pepper to Taste
2 Tbsp. dijon mustard
2 Tbsp. honey
1 Tbsp. white wine vinegar
Directions:
Preheat air fryer to 350˚F (if you do not have an air fryer, you can do this in an oven).
Prepare and pat dry chicken tenders.
Crack eggs into a shallow bowl. Beat eggs, season with salt and pepper, and then set aside.
Add Biena Barbecue Chickpeas to a plastic bag. Smash chickpeas with a meat mallet until a crumb has formed.
Add chickpea crumb to a shallow bowl, along with parmesan cheese and stir to combine.
Coat a chicken tender in the egg wash, followed by the chickpea-parmesan crumb. Repeat until all chicken tenders are coated.
Add chicken tenders to air fryer, and fry for 15 minutes or until cooked through.
While chicken tenders are "frying," whisk together mustard, honey, and white wine vinegar. Taste and add salt and pepper as needed.
Serve chicken tenders with honey dijon dipping sauce.
Roasted Apple With Almond Meal Filling (serves 2):
Ingredients:
2 apples, cut in half and cored
2 tsp. coconut oil
2 Tbsp. almond meal
1 tsp. maple syrup
cinnamon to taste
2 Tbsp. Biena Cinnamon Chickpeas
Directions:
Preheat oven or air-fryer to 350˚F.
Combine coconut oil, almond meal, maple syrup, and cinnamon in a small bowl.
Top the inside of the apple halves with the almond meal mixture.
Roast in oven or air-fryer for 20 minutes.
Top with cinnamon chickpeas, and enjoy.