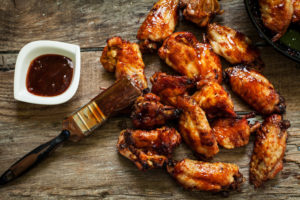 Whether you're a Patriots or an Eagles fan, the culinary highlights of Super Bowl parties are likely to include lots of beer, chips, nacho grandes, hot 'n spicy this and deep-fried that. It's always fun to spend some time with friends and enjoy the musical stylings of Justin Timberlake while checking out the always-hilarious commercials. But a few tips will help keep you accountable of your nutrition goals. Here are some of my game-night nutrition tricks.
Treat Super Bowl Sunday like a regular day; think of the evening's food offerings as one meal.
Don't go hungry. If you're a guest, bring salad, crudités, or a high-protein appetizer like chicken skewers or shrimp cocktail to munch on.
 Once you arrive, start with large glass of water or sparkling water with lemon to hydrate before you dig in.
Survey all the food offerings before you begin grazing, then plate all food on a small appetizer-size plate so you know what you are eating. Aim for veggies and vegetable-based dips, like hummus or guacamole (try our Lima Bean Guacamole for some extra protein). Stay away from fried food and heavy dips.
For the main event, after you've plated your dinner, sit down and try to be mindful while you eat.
Listen to your hunger level. Remember, it's about the big game and the company, not gorging on unhealthy food.
If you simply can't do the Super Bowl without those classic chicken wings, then go for this honey soy glazed version. They pack in flavor and that game-day feel without the excess calories

Honey Soy Chicken Wings
Active Time: 20 minutes
Total Time: 1 hour and 10 minutes
Ingredients
For the chicken:
2 pounds chicken wings
1 tablespoon vegetable oil
½ tsp. freshly ground black pepper
2 tsp kosher salt
For the soy-glaze:
¼ cup honey
2 tablespoons soy sauce
2-3 garlic cloves, crushed
1 2×1'' piece of ginger, peeled and sliced
¼ cup water
Directions
Preheat your oven to 400˚F.
Toss your chicken with the vegetable oil, pepper, and salt until well coated.
Divide wings on a baking tray, and cook for 45-50 minutes, or until the chicken is cooked through and the skin is crispy.
While they are baking, prepare your soy-glaze. Bring all the ingredients to boil in a small saucepan, stirring to dissolve the honey.
Reduce heat to low, and let simmer until reduced to ¼ cup, about 7-8 minutes.
Strain into a medium bowl.
Let it sit for 15 minutes to thicken slightly.
Once the chicken is done, toss them in the honey glaze sauce to coat.
Return them to a baking rack or tray, and bake again for another 8-10 minutes, or until glaze is glossy and slightly caramelized. Enjoy!
Adapted from Epicurious
Another healthy dish you can serve or bring that won't knock you off track? Cookie and Kate's Fresh Seven Layer Dip, which packs in vegetables and protein, satisfying your savory craving without making you feel like you've overindulged.