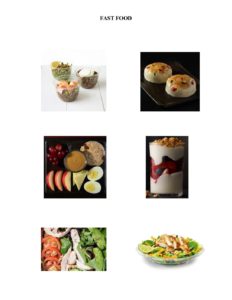 Is there a time and a place for a fast, healthy lunch? Absolutely. Ideally, fast food isn't a daily event, and you have your homemade breakfast and lunch prepped and ready before you tuck yourself in the night before. But let's face it, sometimes that just doesn't happen because the dog gets sick, there's nothing in the fridge or you're too busy to pull off the prep work.
Let me take the guessing out of what to order, when you have to stand in the fast food line that will keep you on track with these top picks:
PRET a MANGER: my very first choice, Pret has a ton of healthful choices in grab and go cases. It's also easy to choose a bottle of seltzer and they have a healthy tea selection.
Breakfast
Blueberry & Granola Pot
Banana & Honey Pot
Bircher Muesli Pot
Chai Chia Pot
Egg & Spinach Pot
Mango & Lime Pot
Overnight Oats Pot
Posh Fruit Pot
Seasonal Citrus and Pomegranate Pot
Superfoods Pot
Five Grain Oatmeal
Steel Cut Oatmeal
Lunch or Dinner
Chicken & Edamame Protein Pot
Egg & Quinoa Pot
Salmon Power Pot
Sweet Pea Hummus Pot
Moroccan Lentil Soup
Sweet Potato and Cauliflower Curry Soup
Chicken & Egg Protein Power Salad
Chicken & Avocado Salad
Pret's Grains & Greens Salad
Pret's Harvest Salad
Salmon & Pickled Veggies Power Lunch
Southwestern Chicken & Avocado Power Lunch
Olive Oil Dressing, Lemon Shallot Vinaigrette or Balsamic Vinaigrette
CHIPOTLE: A healthful salad bowl is the way to go here. Limit yourself to only one serving of the fats and load up on the veggies and lean protein.
Lunch or Dinner
Salad bowl: Bed of lettuce + black beans OR grilled chicken + sautéed peppers & onions + salsa + corn salad + guac on the side (use 1 oz or ½ the container).
STARBUCKS: There's a Starbucks on almost every corner, and in a pinch, you'll do pretty well to stop off for a meal and stay on track with a healthful option.
Breakfast, Lunch or Snack
Cheese and fruit bistro box
Protein bistro box
Classic whole grain oatmeal, without graonla or brown sugar
Blueberry oatmeal
Turkey bacon and egg white breakfast sandwich
Sous vide egg bites: egg white & red pepper
Spinach feta and egg white wrap
Fresh blueberry & honey yogurt parfait
Seasonal harvest fruit blend
McDONALDS: If the only eats in sight are the golden arches, there are even choices here.
Breakfast
Fruit 'n Yogurt Parfait
Egg White Delight McMuffin
Lunch or Dinner
Southwest Grilled Chicken Salad skip the cheese and tortilla and use half of the dressing
Hamburger
Artisan Grilled Chicken Sandwich no sauce
Side add apple slices or cuties to boost the water volume and fiber