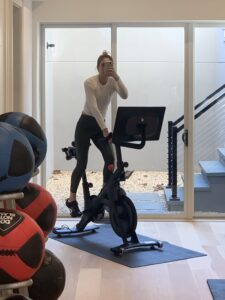 For those of you on the East Coast, winter's piercing winds and shorter days can make exercise seem like a daunting task. But finding ways to stay active during these colder months is key to helping you feel your best.
Exercise is important for overall health and wellness, achieving and maintaining a healthy body weight, lowering stress, and regulating moods. Exercise has been shown to lower anxiety and depression through the release of endorphins, a chemical that enhances your sense of well-being. Plus, exercise has been shown to help regulate sleep, lower the risk of various cancers, and boost your longevity. To reap the benefits of exercise, try to work in 30 minutes of moderate exercise per day, 5 times a week.
While this may seem like a large goal, especially in the face of bitter winds and closed gyms, there are steps you can take to boost your motivation and make moving a bit more fun.
1. Find An Outdoor Activity That You Love: When possible, move your exercise routine outside. As an alternative to an online streaming service, outdoor workouts can give you a change of scenery and some time away from your home (and let's be honest, we all need a little distance right now). Plus, getting outdoors will expose you to some sun and get you your daily dose of vitamin D, an immune boosting vitamin that we all tend to fall short of during the winter months. Finally, studies have shown that spending time outside can lower stress, decrease heart rate, and regulate mood, further compounding the benefits of exercise.
2. Invest In The Right Gear: If you are moving your workouts outdoors, then it's essential to make sure you are prepared for the weather to ensure a productive and comfortable workout session. Investing in winter workout clothes is key. We are currently loving the All Access Fleece Lined Leggings for running and other outdoor activities. We also suggest purchasing a water bottle that has temperature control to keep a warm or room temperature beverage on hand, such as this one by S'well.
3. Get Moving With A Friend: Finding a workout buddy is a great way to hold yourself accountable. While these last few months have been isolating for most, engaging in an outdoor jog or walk could be a great way to continue practicing social distancing while catching up with someone in your pod. Find a friend, partner, or sibling that can commit to the same time every week, and build a schedule that works for both of you.
4. Make Your Movement Unconventional: If you find yourself dreading your morning runs or go-to HIIT, then find ways to incorporate movement in unconventional ways. Maybe it is playing a 30-minute game of tag in the park with your children, or engaging in a family snow ball fight (safely of course).  If getting outside is not feasible for you right now, maybe it is time to look into a Peloton, Mirror, or find a streaming class that you truly enjoy. My family is currently loving Just Dance Nintendo Wii. You will get the most out of your exercise if you find ways to enjoy it.