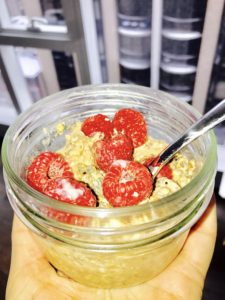 Overnight oats may seem like a trendy breakfast, but as we put our "Best Fork Forward" this National Nutrition Month, I want to convince you that this trend is one worth making a staple in your home.
I'll tell you why.
I'll give you the general how to info.
I'll back it up with 3 recipes.
You're welcome.
Why?
Ummm. No brainer here. Overnight oats can be sweet, savory, spicy and healing. They're loaded with fiber, antioxidants, immune boosters, inflammation suppressors, gentle on the stomach and oh, so very satisfying. They're portable. You can make a batch for the work or school week. You don't have to measure perfectly. These little pots of yumminess are great for any meal or snack. Your 4 year old can make them.
The general "how to"
Grab a bunch of 8 -16 oz mason or jelly jars that make an airtight seal. You only need the 8 oz and they're perfect for an individual serving that you can toss in your bag, but if you like to add a pile of berries, spinach or a hard boiled egg, go for the bigger size.
Here's the formula: ½ cup oats of your choice + ½ cup milk of your choice + toppings.
Here's the process: put the oats, milk, and dry toppings in a jar and stir or shake to combine. Mix in additional toppings (nuts, seeds, fresh fruit) as desired, or add them right before eating. Refrigerate 4 hours or overnight. Can be stored up to 5 days.
3 recipes you'll love:
½ cup oats of your choice
½ cup milk of your choice
½ teaspoon vanilla extract
1 teaspoon 70% cacao powder
Mix or shake above ingredients in mason jar until combined. Then stir in:
2 teaspoons peanut butter
Be creative! A sprinkle of coconut, dark chocolate chips or cinnamon are amazing additions.
½ cup oats of your choice
½ cup milk of your choice
¼ cup plain Greek yogurt
1 teaspoon matcha powder
2 teaspoons chia seeds
Mix or shake above ingredients in mason jar until combined. Then stir in:
1 tablespoon chopped pecans
2 diced dried apricots
The immune boosting, inflammation banishing oat pot
½ cup oats of your choice
½ cup milk of your choice
½ teaspoon turmeric
½ teaspoon ginger
1 teaspoon high quality maple syrup
½ cup frozen raspberries
Mix or shake above ingredients in mason jar until combined. Then stir in:
2 teaspoons slivered almonds