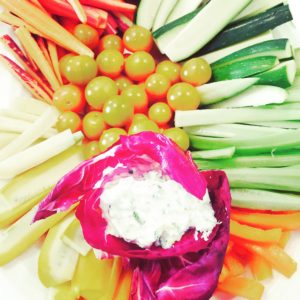 We all love a fresh crudité. It is always a hit, even in its simplest carrot-broccoli-cherry tomato form. It's one of those rare things that work for kids and grownups, Paleo and gluten free eaters, vegetarians, Beyonce dieters and anyone else you can think of. A show stopping,  veggie centerpiece  is a rare gem, but worth aspiring for. Whether hosting or showing up to the party with a contribution, here's the way to create a to die for platter that everyone will rave about.
Focus on the VEGGIES
The summertime is my favorite season to showcase exotic veggies on an oversized platter because you can load up your farmer's market finds and they're at the peak of delicious for the year. Line the base with ENDIVE leaves or RADICCHIO, which can double duty as a base layer and also dip beautifully. Next, color coordinate any of your favorite summer bounty and arrange some of these on your beautiful tray:
Artichokes (canned in water are fine!)
Asparagus (lightly grilled or steamed)
Broccoli
Carrots
Cauliflower
Hearts of palm
Green beans
Peppadews
Pepperonici
Radishes
Rainbow peppers
Snap peas
Tomatoes
Yellow squash
Zucchini
COMPLIMENT and CONTRAST with flavor
A well planned pile of fresh parmesan chunks or Kitchen Table Baker Parmesan Crisps add dimension to your platter and enhance the textures and flavors you're offering. You can do the same thing with any flavorful hard cheese, tapenade, a pile of olives or even some crispy crackers, such as Mary's Gone Crackers.
Dip SMART!
While most of your amazing hors de oeuvres platter is assembly-serve, the dips can be your spot to shine and showcase an amazing and healthful recipe. The best recipes are easy to make a day ahead and get even more delicious when they marry overnight. Try one of these no-fail recipes:
Guacamole (hint, leave the avocado pits in the guac to keep it from browning and do not prep this recipe ahead of time)
Send me a picture of your amazing hors de oeuvres crudité platter. With your permission, I'd love to showcase it.