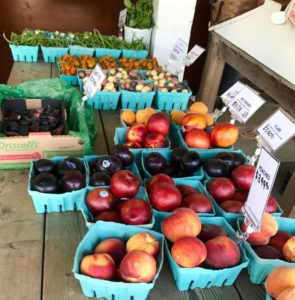 Plump tomatoes, crisp cucumbers, and juicy peaches are the signs of summer that we crave all year long. And when the produce is this undeniably flavorful, it's time to ditch the meat altogether, and let those summertime veggies shine.  But a meatless meal doesn't have to mean a mere salad – our LMN summer vegetable guide will walk you through it all. From the store to the grill, learn how to best utilize this season's produce at your everyday cookout.
The Store
When possible, try and go to a nearby farm stand or market. Not only does it help support your local farmers and community, but the produce is usually higher in nutrients because it is picked at its peak and is grown with fewer pesticides.
This month, make sure you pile your basket high with a variety of produce. Here are a few of our personal favorites that are currently at their peak:
Beans (peas, green beans, snap peas, lima)
Berries
Cherries
Corn
Cucumbers
Eggplant
Peaches
Peppers
Radish
Rhubarb
Tomatoes
Zucchini
And of course, don't forget to stock up on whole grains, fresh herbs, and high quality olive oil.
The Grill
The vegetables this time of year are bursting with flavor and freshness, so when it comes to prepping your produce, use a light hand with the oil: opt for a high quality extra virgin olive oil, and use a brush to just lightly coat your veggies. Adding too much oil will not only add an unnecessary amount of calories, but will make your veggies soggy and muddle that fresh taste you're craving.
If you're looking for a little extra kick, experiment with marinades and seasonings such as crushed red chili peppers, oregano, Cajun spice, dash of garlic salt, or try using our LMN marinade below. And unlike their meat counterpart, veggies don't have strict cooking time, so simply through them on the grill, sit back, and enjoy them at your leisure.
Looking for some more inspiration?  Here are our favorite vegetable BBQ recipes:
LMN Marinade:
Ingredients:
2 Tbsp. extra-virgin olive oil
2 Tbsp. balsamic vinegar
1 Tbsp. lemon juice
2 garlic cloves, minced
1 Tbsp. fresh oregano (or 1 tsp. dried)
1 Tbsp. fresh rosemary (or 1 tsp. dried)
Greek Vegetable Kebabs (serves 6):
Ingredients:
1 bell pepper
1-2 zucchinis
1 cup cherry tomatoes
5-6 oz. halloumi cheese
½ a bunch of fresh mint
1 lemon
1-2 tsp. crushed red chili pepper
1 Tbsp. olive oil
Directions:
Soak and prepare 6 wooden skewers.
Carefully cut bell peppers in 2 cm pieces, zucchini into ½ moon slices, and slice tomatoes in half. Slice cheese into 6 equal cubes (about 1 oz. each). Add them all to a large mixing bowl.
Finely chop mint and add to bowl.
Grate lemon zest to taste and add to bowl, along with chili pepper, and olive oil. Toss to combine.
Prepare and Preheat grill to high heat.
Thread and divide the cheese, tomatoes, peppers, and zucchini onto skewers.
Grill until ready, turning halfway through (recommended: 10-12 minutes).
Adapted from Jamie Oliver
Grilled Corn Salad (serves 6):
Ingredients:
5-6 sweet corn
2 tomatoes
¼ cup fresh cilantro leaves, finely chopped
½ a red onion, minced
1 cup black beans
1 jalapeño pepper
1-2 limes, juiced
salt and pepper
Directions:
Grill corn according to your liking. Set aside and allow to cool.
Slice tomatoes into bite size pieces and add to a large serving bowl.
Add chopped cilantro, minced red onion, and black beans to the bowl .
Remove seeds of jalapeño and finely chop. Add according to taste.
Once corn is cool, slice kernels off of the cob and add to the mixing bowl.
Toss to combine. Then add lime juice, salt, and pepper to taste. Toss again until well coated.
Serve chilled or at room temperature.
Cauliflower Steaks (serves 4-6):
Ingredients:
2 heads of cauliflower
¼ cup olive oil
2 limes, juiced and zested
2 cloves garlic, finely grated
½ tsp. honey
2 Tbsp. paprika
1 Tbsp. chipotle powder
1 tsp. salt
¼ cup cilantro leaves, finely chopped
lime wedges to serve
Directions:
Remove the outer and tough leaves on each cauliflower head, and trim the stem to create a flat base.
Trim off the sides of the cauliflower, and then cut into 2 or 3 4-inch "steaks."
Whisk the olive oil and lime juice in a small bowl, and then add garlic and honey. Mix well.
In a separate bowl, mix the lime zest, paprika, chipotle, and salt.
Heat grill to medium heat.
Brush both sides of cauliflower steaks with olive oil mixture, and season with chipotle powder mixture.
Place on grill and cover. Allow to cook for 5-6 minutes on each side.
Sprinkle with chopped cilantro, and serve with lime wedges.
Adapted from The Kitchn
The Sides
No BBQ is complete without the perfect complimentary side dish. But the typical potato salads and corn breads are often heavy, and can weigh down even the lightest of BBQs. Instead, opt for fresh veggies to go along with your grilled pieces, and use vinegars and seasonings to add flavor.
Zucchini Carpaccio (serves 12):
Ingredients:
2 slender green zucchinis, sliced paper thin on a mandolin
½ cup mint, finely chopped (chiffonade)
¼ cup extra virgin olive oil
1 lemon, juiced
½ cup pine nuts, lightly toasted
¼ – ½ cup shaved Parmigiano-Reggiano
Directions:
Arrange zucchini in concentric circles, slight overlapping on a serving plate.
Sprinkle evenly with mint.
In a separate bowl, whisk together the olive oil and lemon juice. Pour over the zucchini.
Allow zucchini to sit 10-30 minutes for the flavors to develop.
Before serving, sprinkle with pine nuts and Parmigiano-Reggiano.
Lara's Lima Bean Guacamole
Ingredients:
2 ripe avocados
2 cups puréed lima beans
4 cloves garlic, minced
¼ red onion, chopped
½ cup chopped fresh cilantro
2 limes, juiced
salt and pepper to taste
Directions:
Add avocados, lima beans, garlic, red onion, cilantro, and lime juice to a large mixing bowl.
Mash with a potato masher or fork until desired consistency.
Taste and adjust salt and pepper. Serve chilled or at room temperature.
Healthy Slaw:
Ingredients:
1 cup red cabbage, thinly sliced
2 cups green cabbage, thinly sliced
½ cup sliced almonds
2 Tbsp. rice vinegar
2 tsp. Dijon mustard
Directions:
In a large bowl, add cabbage and almonds.
In a separate small bowl, whisk together rice vinegar and Dijon mustard.
Pour dressing over cabbage and toss until well combined.
Adapted from Nutritious Life
The Desserts
Finish your BBQ on a sweet and healthy note by grilling up some of your favorite fruits. Grilling fruit not only adds texture, but will actually enhance the flavor, as the heat helps caramelize the naturally occurring sugars, making it a sweet and healthful dessert. Can't choose just one? Make a fruit kebab by layering your favorite fruits together. Here are some of our favorites to throw on the grill.
Pineapple
Peaches
Apples
Pears
Watermelon
Get creative, and take advantage of nature's candy.