Whether it is an oat-milk cappuccino with extra foam, or a frothy matcha latté, there are few things cozier than a warm drink on a cold winter day. But with stay-at-home orders still underway, many of our morning coffee routines have been disrupted. During these last few months, as I've tried to replicate my go-to java in my own kitchen, I have quickly found that a high quality milk frother will elevate even the simplest of beverages (and my girl's love it too!).
Before investing in a model, it is important to consider what makes the most sense for you: if you have limited space, a handheld whisk may be the right fit; if you already have an espresso machine, then maybe an attached steam wand of that brand would make the most sense. I decided to make the search a bit easier for you, and compiled a few of my favorite milk frothers that are sure to satisfy your needs.
Once you have decided on one of these gadgets, try making some of your favorite coffeehouse drinks right at home. For a little inspiration, check out our Matcha Collagen Latté.
1. The Best Handheld Milk Frother: Powerlix Handheld Milk Frother 
 The Powerlix handheld milk frother will get you perfectly frothed milk in just 20 seconds. This battery-operated whisk is easy to clean, inexpensive, and can be finished in multiple colors, complimenting any kitchen decor. While the Powerlix will not warm your milk, it is the perfect solution for those with smaller kitchens, limited outlet space, or travelers who just want a way to foam their on-the-road lattés.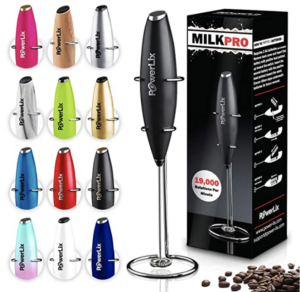 2. The Best Budget-Friendly Milk Frother: Bodum 11870-01US Bistro Electric Milk Frother
This milk frother will be sure to appease latté and cappuccino aficionados without compromising their wallets. At $30, the electric Bodum milk frother can heat and froth 1 cup of milk in just one minute. Plus, the cord can be stored in its base, making it suitable for small spaces and compact storage.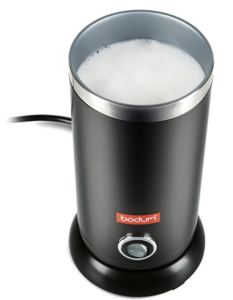 3. The Best Nondairy Milk Frother: Nespresso Aeroccino3 Milk Frother
From almond milk and hemp milk, to whole milk and skim, the Nespresso Aeroccino3 is touted for its ability to foam a variety of milks. With only two settings – hot or cold milk froth – and one button to press, it is simple and straightforward to use. If your mornings tend to be busy, get this frother for foolproof lattés and café oles.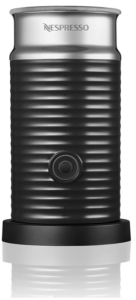 4. The Best Overall Milk Frother: Breville BMF60XL Milk Café Frother
While the Breville BMF60XL may be a bit on the expensive side, it is worth the price. This frother is known for producing small bubbles, which makes for a rich and creamy foam. Plus, it has temperature control, is dishwasher safe, and comes with a measuring cap for adding in ingredients once mixing has started, such as chai tea or cocoa powder.