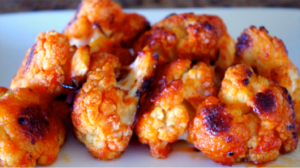 Guest blog by Stacia Helfand, MEd, RDN, CDN, senior associate at LMN
The countdown to Super Bowl 50 between the Broncos and the Panthers is closing in. You love the idea of a night with friends, can't wait to see what Coldplay is going to perform and already filled out your squares for the pool. Still, as much as you're looking forward to game night, you're dreading the food fest and questioning your self-control already, with kickoff days away.
Let's take stock
Truth #1: you care about the commercials, the food, the drink, and waking up for work on Monday morning.
Truth #2: you "don't trust" that you won't be tempted by the wings, nachos and the allure of the pizza, and don't have a plan to navigate it all.
Truth #3: every year you feel like a dieting failure and the self -loathing lasts longer than the four quarters of deliciousness.
Here's your game day game plan to Super Bowl success.
Start your day off right. Wake up rested. Go to bed at your usual time on Saturday and aim for 8 hours. Eat a healthful breakfast (Siggi's full fat yogurt, 10 almonds and 1 diced green apple with cinnamon) and EXERCISE in the morning. Exercising will anchor your day of health and empower you to do other healthful things like drink water, clean up your home and spend the rest of the day strong. For lunch have your favorite salad (mine is arugula, sun dried tomatoes, artichokes, jalapenos, cucumbers, chunk light tuna, 10 olives and lemon). In the afternoon prep your snacks for the evening (see #3) and remember to have a snack before you head out to meet the gang. I always suggest a bowl of lentil soup or shrimp cocktail.
Do something during the day that deflates some of your stress. Spend a second to check in with yourself. Most of us are stressed most of the time. Spend 10 minutes doing a mindfulness exercise, take a long shower, read your book or otherwise actively, consciously and deliberately de-stress. Stress is one of the worst enemies to your health and wellness. Pulling the stress hormones out of your body and letting yourself feel good will help you figure out if you really want to eat the cheese fries, or if your stress hormones are calling a blitz on your good intentions.
Bring your own delish. The buddies in my huddle have already asked me to bring the cauliflower wings I made last year, but I have my sights on pulled bbq chicken lettuce cups (recipe follows). I always bring a bucket of crudités and homemade hummus, swapping the chickpeas for another bean, like cannellini or fava. I know you're thinking nobody wants cucumber spears when there are loaded skins on the table, but trust me, they'll be the first thing to go and the benchwarmers on the couch next to you will thank you for it.
Think recovery before you run onto the field. I have all of my clients plan ahead for what they're going to eat before they show up to the door. It's called a game plan, folks, and you should make one for yourself. You can plan to eat empowered: "I love sliders, I'm going to enjoy two tonight" or "I'm going to have 1 beer each half and seltzer in between". You can plan to eat before you go. You can also give yourself full permission to enjoy the night, knowing it is one night and you'll return to your healthful ways first thing. Regardless, make sure you have some probiotic rich foods, like kimchee, yogurt, sauerkraut or even a little beer, to help your digestive tract forgive you if you're throwing it an interception it may not be used to.
Have fun. This one's a no brainer. Enjoy the night. Enjoy your buddies. Enjoy the food and the night will be a great one.
Stacia's BBQ Pulled Chicken Lettuce Cups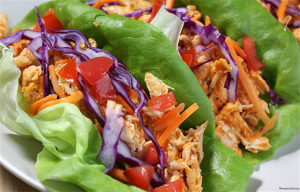 Serves: 10
Prep: 15 minutes
Ingredients:
5 organic chicken breasts, about 3 pounds (you can use thighs, too)
1 18 oz bottle high quality bbq sauce (I like homemade from a farmer's market, but in a pinch, a bottle from the supermarket will do)
One big white onion, sliced thin
1 European cucumber, sliced paper thin
1/3 cup cider vinegar
2 tablespoons brown sugar
3 – 4 heads Boston lettuce, leaves separated
Directions:
Place the chicken, barbecue sauce and onions in a slow cooker set on low and forget about it for at least 6 hours and as many as 10.
Place cucumber, vinegar and sugar in a bowl and refrigerate for as long as the chicken cooks.
Before you serve, take the chicken out of the slow cooker and shred with two forks. Put the chicken back in the sauce.
Serve the chicken in the lettuce cups, topped with cucumbers.